Paul Ratcliff
Paul is a building consultant with over 30 years' experience, with an onsite building background, and a strong foundation in understanding how structures are built and why they fail.
Realising that water entry into buildings represents 80% of litigated claims, for the last 20 years Paul has focused on understanding which building materials make a building waterproof and how to implement them into good design.
Involved in building litigation in all jurisdictions, written litigation reports on residential houses, multi-level residential buildings, commercial buildings, hotels and public buildings. Paul Understands the importance of good straight advice in building litigation matters.
Paul has project managed residential house developments, six major Hotel redevelopments, a five-star multi-level residential development on the beach at Manly, numerous waterproofing remedial projects and a major façade upgrade on Broadway in Sydney to name a few.
Participated in the Australian Standard Committee for revisions to 3740-2010 and 4654.2-2009 which relate to internal and external waterproofing.
Chairperson of the Master Builders Australia committee that wrote;
"Book 1: The Guide to Internal Wet Area Waterproofing"
"Book 2: Guide to External Waterproofing- Balcony Decks"
"Book 3: Guide to Waterproofing-Planter boxes"
"Book 4: Guide to Flashings and Dampproof courses".
Presented seminars on waterproofing and good building practice in all capital cities in Australia and New Zealand. Paul has provided waterproofing training to some of Australia's largest building companies and architectural firms.
Paul has a 'hands on' approach to diagnostic investigation and believes understanding why something is leaking is the first step in determining how it can be fixed.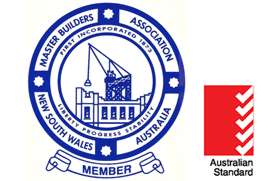 Recipient of the Master Builders Association 2004 "Recognition of Service Award" for development of the Master Builders Best Practice Manual "Guide to Internal Wet Area Waterproofing"
NSW Department of Education and Training Initiative Award for participation in developing a nationally accredited training and assessment package for internal wet area waterproofing.
External Wet Area Waterproofing BD/13
Revision of AS 3740
Chairman of the Master Builders Association Waterproofing Technical Committee
Accredited Building Consultant with the Master Builders Association
Builder Licence number 18600C